Huffly Parfait Scans » Parfait Street » Games » Otome Game
Page 1 of 2
#1
Otome Game
by
Huffle Parfait
22.12.2012 17:21
Have ya' ever heard about that?
Like, Starry Sky for example?




I so love it.

Also "Always Remember Me" , omg. Check them out guys. :3
#2
RE: Otome Game
by
saranghachi
22.12.2012 18:39
OOOHHH, I always wanted to play dating sim games and see how they go~

Whoever made Starry Sky is very smart money wise! A lot of different games for one idea = $$

I've played only Hatoful Boyfriend for the lols. Dating pigeons haha


#3
RE: Otome Game
by
WildEagle
22.12.2012 20:22
LOOOOL I always wanted to be a pigeon and date other pigeons... NOW I CAN RELIEVE MY DREAMS.
#4
RE: Otome Game
by
saranghachi
23.12.2012 02:58
Haha in the game you're human going to a school filled with pigeons (for some reason...)

At the beginning they do a brief showing of how each guy looks like in human form but my favorite has to be the guy that even in his human form...is a pigeon. Very amusing personality that guy has. It's more a visual novel than game though.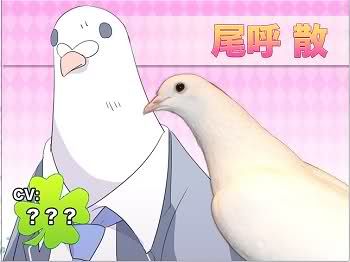 Look at the beautiful face on this dude~ Gorgeous~ xD
#5
RE: Otome Game
by
NeonNinjaSushi
24.12.2012 12:44
Mitchi is into dating sims?
#6
RE: Otome Game
by
Huffle Parfait
24.12.2012 13:13
BAHHAHAH, WHAAT'S THAAT... non non omg, Pigeons!! Cute...


Yesh, Onii-chan!
Starry Sky is my favorite. I only played the ~Spring version 'cause it has the English patch and such @.@ Then watched the Anime version~ Always Remember me is cute too. Like, you lost your BF in a car accident- i mean, well no, actually... oh non, spoiler. Like YEAH, It's a really nice Sim date~
Emii once told me that there's someone who "makes" Sim dates on 'her' DA. We can even play them too there. :o Cool rite...
#7
RE: Otome Game
by
ecgradux
28.12.2012 11:10
Woah. So that's an Otome. I see. And I've played dating games before but my goal when I play is to get lots of money XD
#8
RE: Otome Game
by
Huffle Parfait
30.12.2012 20:09
LOL

I'm a passionate lover~ I care with my munny, but Romance must go on. >///<
#9
RE: Otome Game
by
orangesoda
31.12.2012 06:32
#10
RE: Otome Game
by
Huffle Parfait
19.01.2013 04:40
they look great!
Imma playin X-note now :3